Over our first Christmas and New Year as a family of 5 I have had the highs and the lows of trying to organise. A.Lot of stuff, keep everybody happy, make sure we see as many family members as possible and still have that time to hunker down in pj's in front of the fire whilst munching on cheese footballs, chocolate covered Brazil nuts and mince pies.
With Hubs working Christmas Day day and a Boxing Day night shift all of the above has been full on! Oh yeah, and we also needed to find time for the 5 of us to have our own crimbo celebrations!
As a huge lover of I love Lucy I feel that the following can quite simply and effectively illustrate me this festive season just passed.
When the realisation of Christmas shopping hit home…
But then I remembered (blame the baby brain folks!) that I had in fact already bought most of the gifts in the January Sales, online as I was housebound with the pregnancy…#smug
Whilst wrapping gifts in a super organised manner..
Watching Hubs/kids wrap their gifts…..
When I remembered a gift I had forgotten to wrap and that it was still stashed in the attic!
.
The debacle with the gingerbread house template. The roof was far too small. Yes I measured correctly. No it wasn't my fault. Yes the template was wrong!
The moment when we substituted the crap template roof for giant slabs of chocolate (which actually looked much more like tiles and looked great once the icing sugar snow was dusted!)
And what I did to the original WRONG SIZED template…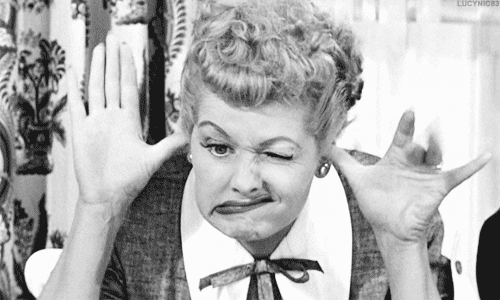 That moment when you open a gift that you bought for yourself to be from someone else to you – utter surprise…believable? Much?!
Singing at the kids school Carol Concert…in Church…without a song sheet…but vaguely remembering the songs from when I was at Primary School…playing Angel Gabriel!!
The obligatory game of Charades after dinner…I do get into the spirit of things!
One glass of Prosecco …yes…ultimate lightweight! I just don't have the time to drink these days!  Or the money!
I think I looked remarkabley like this as I went through the tub of Celebrations and 'bagsied' all the Malteser sweets…then stashed them in a very high up cupboard that the Twins can't reach!
When Hubs asked for a Christmas card to write for work colleagues after I had already finished with cards put them back in the attic and was asked to go and fetch them again!
Helping out Santa by having a little nibble of the (somewhat dry) Mince Pie…good job there was a snifter of brandy to wash it down!
Oh yeah, the dubious drunken lighting of the Christmas Pud…thank God shell suits are no longer a thing! They're not are they? Please no!
Ah, when Hubs had finally finished his Christmas shift pattern and we could snuggle and watch Morecombe and Wise, wear our new fluffy socks and be amazed that all the kids were actually asleep at the same time…at night! Woohoo!
New Years Eve! HootENANY!!!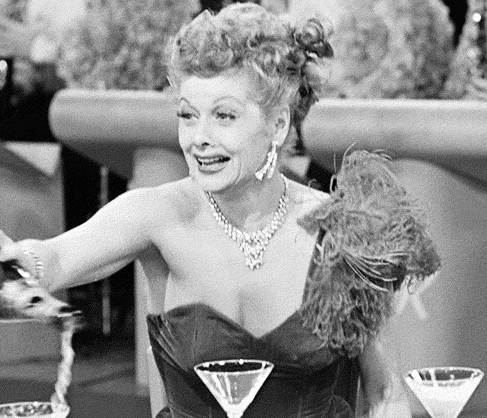 Waiting for the delivery of this years January Sales bargains for Christmas 2017…if I smoked….which I don't!
Certainly felt this way after a whole box of Just Brazils!
Trying on all the clothes I got for Crimbo…at the same time! Surely I'm not the only one who does this?!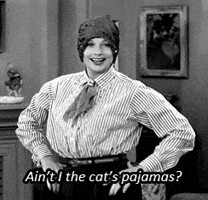 And this! This is precisely how my brain functioned on my first Keeping in Touch day on Jan 3rd….JAN 3RD!!! Eeeeshk!
And there we have it folks! My Crimbo and New Year in a rather Lucy shaped nutshell!
How was yours? Who is your gif alter ego?!!
The Aloha Mummy 🌺
P.S this is how the gingerbread house ended up!
I am not claiming any of these gifs as my own, all credits have been left on the downloaded images.